The County Museum of Gävleborg
Address: Södra Strandgatan 20, 80250 Gävle
Date: Friday 27 nov 2020 - Wednesday 23 Dec 2020
Show map
Address: Södra Strandgatan 20, 80250 Gävle

The museum has one of Sweden's finest collections of Swedish art. The museum also offers permanent exhibitions about cultural history, textile collections and object by the worldfamous designer Gunnar Cyrén among other things.You can visit a wide spectrum of temporary exhibitions and take part in diverse programme activities.
About the Museum

The County Museum of Gävleborg encompasses both the provinces of Gästrikland and Hälsingland and we have the whole county as our workplace. We work with cultural history, art, building and landscape conservation, archaeology, and with various cultural projects in the county's municipalities. The museum itself is located on Södra Strandgatan in Gävle.


Our History

The Rettig family owned a tobacco factory and ran a shipyard and a shipping company in Gävle in the 19th century. The museum's history began in 1933 when Antonie Rettig, married into the family, died, bequeathing "John and Antonie Rettig's Museum Fund to the city of Gävle".

The donation was for a large amount of money, worth several million in today's currency, and financed the building of the museum. Designed by the municipal architect, Sven Wranér, the building was completed in 1940 and was called the Gävle Museum. In accordance with the donors' wishes, Antonie Rettig's sister's mansion in Copenhagen served as the architectural model. The donation also included around one thousand art and crafts objects, which provided the foundation for the museum's collection.


Exhibitions

The museum has one of Sweden's finest Collections of Swedish art and over 2000 square meters' exhibition space. The exhibitions are used for pedagogical purposes when we give guided tours and viewings, workshops and diverse programme activities.

The museum also offers a wide spectrum of temporary exhibitions. The largest exhibition space for temporary exhibitions is on the ground floor.
Show more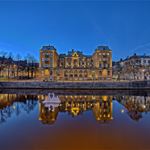 Hotel
Distance: 142 meters
Elite Grand Hotel is a beautiful four-star hotel boasting 124 rooms including two suites, a lovely restaurant and bar overlooking the river Gavleån, and conference rooms accommodating up to 130 people. Elite Grand Hotel puts you right in the heart of central Gävle, just next door to Central Station.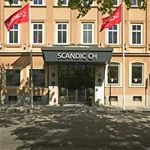 Hotel
Distance: 364 meters
Hotel
Distance: 552 meters
Clarion Hotel Winn, Gävle is a hotel bursting with personality, in which art, music and design take pride of place. Welcome to Gävle's natural meeting place for hotel guests, conference attendees, business travellers and, last but not least, locals.