Gävle Symphony Orchestra
Address: Kungsbäcksvägen 22, 802 67 Gävle
Date: Wednesday 12 dec 2018 - Tuesday 1 Jan 2019
Show map

Address: Kungsbäcksvägen 22, 802 67 Gävle

The Gävle Symphony Orchestra is a Swedish symphony orchestra based in Gävle. Founded in 1912, the orchestra initially gave its concerts in the Gävle theatre and Mariners' Church. In 1998, a purpose-built concert hall was constructed overlooking the river Gavleån. The orchestra has 52 permanent members.
Among its discography are recordings of Tre Dalmålningar by Oskar Lindberg, Xaver Scharwenka's Symphony in C minor, symphonic poems by Franz Berwald; orchestral works by Gustaf Bengtsson, Oscar Byström's Symphony in D minor, Jacob Adolf Hägg's Nordic Symphony; orchestral music by Armas Järnefelt, Otto Olsson's Symphony in G minor, Kurt Atterberg's violin and piano concertos; a concert live from the Amsterdam Concertgebouw with works by Grieg, Svendsen and Shostakovich with Carlos Spierer, Rosa Arnold, Enrica Ciccarelli; Sven-David Sandström's piano concerto.

Since 1 July 2012, Jaime Martín has served as the orchestra's artistic adviser, and on 1 July 2013, he became the orchestra's principal conductor.
Show more
Date

Wednesday 12 dec 2018
Thursday 13 dec 2018
Friday 14 dec 2018
Saturday 15 dec 2018
Sunday 16 dec 2018
Monday 17 dec 2018
Tuesday 18 dec 2018
Wednesday 19 dec 2018
Thursday 20 dec 2018
Friday 21 dec 2018
Saturday 22 dec 2018
Sunday 23 dec 2018
Monday 24 dec 2018
Tuesday 25 dec 2018
Wednesday 26 dec 2018
Thursday 27 dec 2018
Friday 28 dec 2018
Saturday 29 dec 2018
Sunday 30 dec 2018
Monday 31 dec 2018
Tuesday 1 jan 2019
Hotel
Distance: 991 meters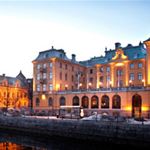 Hotel
Distance: 933 meters
A completely restored Elite Grand Hotel has just opened its doors in central Gävle! The hotel is a beautiful four-star hotel boasting 124 rooms including two suites, a lovely restaurant and bar overlooking the river Gavleån, and conference rooms accommodating up to 130 people. Elite Grand Hotel puts you right in the heart of central Gävle, just next door to Central Station.
Hotel
Distance: 519 meters
Clarion Hotel Winn, Gävle is a hotel bursting with personality, in which art, music and design take pride of place. Welcome to Gävle's natural meeting place for hotel guests, conference attendees, business travellers and, last but not least, locals.