Gavle Concert Hall
Address: Kungsbäcksvägen Gävle
Date: Thursday 24 may 2018 - Thursday 14 Jun 2018
Show map
Address: Kungsbäcksvägen Gävle

Gavle Concert Hall offer concerts, performances and guest artists. A beautifully situated house music with a café, bar and restaurant. Also the home of the Gävle Symphony Orchestra. Concert Hall is the venue for diverse musical experiences - from Mongolian "strupsingers" via Gavle Symphony Orchestra to choral music and rock bands.
Show more
Date

Friday 25 may 2018
Saturday 26 may 2018
Sunday 27 may 2018
Monday 28 may 2018
Tuesday 29 may 2018
Wednesday 30 may 2018
Thursday 31 may 2018
Friday 1 jun 2018
Saturday 2 jun 2018
Sunday 3 jun 2018
Monday 4 jun 2018
Tuesday 5 jun 2018
Wednesday 6 jun 2018
Thursday 7 jun 2018
Friday 8 jun 2018
Saturday 9 jun 2018
Sunday 10 jun 2018
Monday 11 jun 2018
Tuesday 12 jun 2018
Wednesday 13 jun 2018
Thursday 14 jun 2018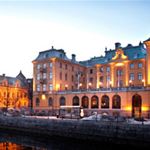 Hotel
Distance: 1.4 km
A completely restored Elite Grand Hotel has just opened its doors in central Gävle! The hotel is a beautiful four-star hotel boasting 124 rooms including two suites, a lovely restaurant and bar overlooking the river Gavleån, and conference rooms accommodating up to 130 people. Elite Grand Hotel puts you right in the heart of central Gävle, just next door to Central Station.
Hotel
Distance: 936 meters
Clarion Hotel Winn, Gävle is a hotel bursting with personality, in which art, music and design take pride of place. Welcome to Gävle's natural meeting place for hotel guests, conference attendees, business travellers and, last but not least, locals.
Hotel
Distance: 1.4 km