Paddla i Gästrikland
Address: Gävle
Date: Thursday 13 dec 2018 - Tuesday 1 Jan 2019
Show map
Address: Gävle

Gavle and Gastrikland offer many fine paddling waters for those looking for an outdoor adventure.
Naturkraft Gästrikland have created descriptions of canoeing trails and camping places for you to comfortably be able to go on leisurely rides through the natural area filled with beauty. Canoes are available to rent for those who do not have their own.
Show more
Date

Thursday 13 dec 2018
Friday 14 dec 2018
Saturday 15 dec 2018
Sunday 16 dec 2018
Monday 17 dec 2018
Tuesday 18 dec 2018
Wednesday 19 dec 2018
Thursday 20 dec 2018
Friday 21 dec 2018
Saturday 22 dec 2018
Sunday 23 dec 2018
Monday 24 dec 2018
Tuesday 25 dec 2018
Wednesday 26 dec 2018
Thursday 27 dec 2018
Friday 28 dec 2018
Saturday 29 dec 2018
Sunday 30 dec 2018
Monday 31 dec 2018
Tuesday 1 jan 2019
About this activity
Contact person email

Website

Facilities
Hotel
Distance: 1.2 km
Hotel
Distance: 735 meters
Clarion Hotel Winn, Gävle is a hotel bursting with personality, in which art, music and design take pride of place. Welcome to Gävle's natural meeting place for hotel guests, conference attendees, business travellers and, last but not least, locals.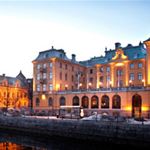 Hotel
Distance: 1.2 km
A completely restored Elite Grand Hotel has just opened its doors in central Gävle! The hotel is a beautiful four-star hotel boasting 124 rooms including two suites, a lovely restaurant and bar overlooking the river Gavleån, and conference rooms accommodating up to 130 people. Elite Grand Hotel puts you right in the heart of central Gävle, just next door to Central Station.