Gävle Konstcentrum
Address: Kungsbäcksvägen 32, 801 31 Gävle
Date: Monday 10 dec 2018 - Tuesday 1 Jan 2019
Show map
Address: Kungsbäcksvägen 32, 801 31 Gävle

Gävle Konstcentrum is a venue for Swedish and international contemporary art. We gather here to experience art which reflects our own time and which poses trenchant questions about society and culture. We offer visitors of all ages the chance to approach contemporary art in many different ways – through tours of exhibitions, presentations of art in public spaces, conversations with artists, debates, lectures, vernissages, and through creating art themselves.
Gävle Konstcentrum is part of the municipality of Gävle and is the focal point for contemporary art in the region. Gävle Konstcentrum helps to profile Gävle as a centre for artistic activity. We have exhibitions of Swedish and international artists. We have a well-developed programme, with elements that may be directly related to the current exhibition and/or related to other current and important issues.

Gävle Konstcentrum's activities are aimed at all age groups – we want to bring about encounters that span generations. We cooperate closely with Gävle's schools through our educational programme which is directed towards children and young people, from preschool to upper secondary. We also work with local schools in various types of collaborative projects, extended education or refresher courses for teachers, seminars and lectures.

Gävle Konstcentrum is an important resource as regards the municipality's public art. We are engaged in investigating the city as public space and the importance of art for and in the urban environment.

Gävle Konstcentrum is located within walking distance from the city centre and is housed in the historical building known to Gävle residents as the previously forestry museum, Silvanum.
Show more
Date

Monday 10 dec 2018
Tuesday 11 dec 2018
Wednesday 12 dec 2018
Thursday 13 dec 2018
Friday 14 dec 2018
Saturday 15 dec 2018
Sunday 16 dec 2018
Monday 17 dec 2018
Tuesday 18 dec 2018
Wednesday 19 dec 2018
Thursday 20 dec 2018
Friday 21 dec 2018
Saturday 22 dec 2018
Sunday 23 dec 2018
Monday 24 dec 2018
Tuesday 25 dec 2018
Wednesday 26 dec 2018
Thursday 27 dec 2018
Friday 28 dec 2018
Saturday 29 dec 2018
Sunday 30 dec 2018
Monday 31 dec 2018
Tuesday 1 jan 2019
About this activity
Phone number

Contact person email

Website

Opening hours

Tuesday-Wednesday, Friday-Sunday 12-16. Thursday 12-20. July: Tuesday–Sunday 12-16.

Facilities

Guide

Kostnadsfritt

Physically disabled facilities

Non smoking

WC

Child friendly

Eat & Drink on site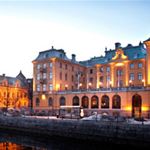 Hotel
Distance: 1.4 km
A completely restored Elite Grand Hotel has just opened its doors in central Gävle! The hotel is a beautiful four-star hotel boasting 124 rooms including two suites, a lovely restaurant and bar overlooking the river Gavleån, and conference rooms accommodating up to 130 people. Elite Grand Hotel puts you right in the heart of central Gävle, just next door to Central Station.
Hotel
Distance: 913 meters
Clarion Hotel Winn, Gävle is a hotel bursting with personality, in which art, music and design take pride of place. Welcome to Gävle's natural meeting place for hotel guests, conference attendees, business travellers and, last but not least, locals.
Hotel
Distance: 1.4 km