Parks and Nature Reserves
Address: Gävle
Date: Thursday 13 dec 2018 - Tuesday 1 Jan 2019
Show map
Address: Gävle

There are many beautiful parks and areas of natural beauty to visit in Gävle. These areas provide beautiful green space for relaxation, exercise and play.
During the warm summer months, Gävle's beautiful parks are full of Gävle residents and visitors who gather there for outdoor activities. Many of the city's parks are located along the Gävle River, which runs through town.
There's a great variety of destinations to visit that are close to nature. There are 35 nature reserves, four wildlife reserves, a natural landmark and many protected habitats.
Show more
Date

Thursday 13 dec 2018
Friday 14 dec 2018
Saturday 15 dec 2018
Sunday 16 dec 2018
Monday 17 dec 2018
Tuesday 18 dec 2018
Wednesday 19 dec 2018
Thursday 20 dec 2018
Friday 21 dec 2018
Saturday 22 dec 2018
Sunday 23 dec 2018
Monday 24 dec 2018
Tuesday 25 dec 2018
Wednesday 26 dec 2018
Thursday 27 dec 2018
Friday 28 dec 2018
Saturday 29 dec 2018
Sunday 30 dec 2018
Monday 31 dec 2018
Tuesday 1 jan 2019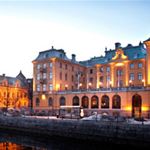 Hotel
Distance: 2.5 km
A completely restored Elite Grand Hotel has just opened its doors in central Gävle! The hotel is a beautiful four-star hotel boasting 124 rooms including two suites, a lovely restaurant and bar overlooking the river Gavleån, and conference rooms accommodating up to 130 people. Elite Grand Hotel puts you right in the heart of central Gävle, just next door to Central Station.
Hotel
Distance: 2.9 km
If you want to stay comfortable , get time to cultivate your interests , take it easy and enjoy life. On Engeltofta it is close to everything. Close to sea, forest and stadiums. Close to restaurant and cafe open during the summer .
Hotel
Distance: 2.5 km