Swedish National Dancesport Championships
Category:
Events, Competitions, Dance
Date: Friday 31 may 2019
- Saturday 1 Jun 2019
This spring, Gävle Rockin' & Rollin' Club, in collaboration with the Swedish Dancesport Federation, will host the Swedish National Dancesport Championships in Gavlerinken. See Sweden's best dancers compete here in Gävle!
Gävle Rockin' & Rollin' Club (GRRC) was founded in 1991. Over the years, the association has grown to become one of Sweden's largest dancesport associations; in 2018, it had 794 registered members. GRRC is a skilled organiser of larger competitions and along with its many hard-working and experienced volunteers, they will deliver a top-class event.

Dancers from all over the country will come to Gävle to compete in dance styles such as Bugg, Boogie Woogie, Rock 'n' Roll, Lindy Hop, West Coast Swing, Standard and Latin. Hope to see you in Gavlerinken on the 31st of May – 1st of June!
Hotel
Distance: 1.7 km
Hotel
Distance: 1.8 km
Clarion Hotel Winn, Gävle is a hotel bursting with personality, in which art, music and design take pride of place. Welcome to Gävle's natural meeting place for hotel guests, conference attendees, business travellers and, last but not least, locals.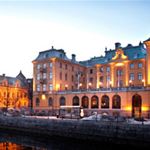 Hotel
Distance: 2 km
A completely restored Elite Grand Hotel has just opened its doors in central Gävle! The hotel is a beautiful four-star hotel boasting 124 rooms including two suites, a lovely restaurant and bar overlooking the river Gavleån, and conference rooms accommodating up to 130 people. Elite Grand Hotel puts you right in the heart of central Gävle, just next door to Central Station.