During 2018, the City Library will display some of the pictures from Gävle Municipality's exhibition of 100 Gävle inhabitants.
From January the 8th to December the 31st. Please note that the exhibition may be moved around in the library during some periods and hence not always viewable.

Click the link below to see all places where the 100 Gävlebor exhibition is spread out during 2018.
Facilities

Free admission

WC
Hotel
Distance: 431 meters
Hotel
Distance: 420 meters
Clarion Hotel Winn, Gävle is a hotel bursting with personality, in which art, music and design take pride of place. Welcome to Gävle's natural meeting place for hotel guests, conference attendees, business travellers and, last but not least, locals.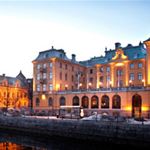 Hotel
Distance: 244 meters
A completely restored Elite Grand Hotel has just opened its doors in central Gävle! The hotel is a beautiful four-star hotel boasting 124 rooms including two suites, a lovely restaurant and bar overlooking the river Gavleån, and conference rooms accommodating up to 130 people. Elite Grand Hotel puts you right in the heart of central Gävle, just next door to Central Station.